Good morning CraftyStealers!
December is a very busy month in my house – my wedding anniversary, my daughter's birthday, my husband's birthday, my sister's birthday, my brother-in-law's birthday and my aunt's birthday.  (Oh, and of course Christmas and New Year's are in there too!)
Needless to say, November flies by quickly in my house.  I spend most of October planning Christmas cards, presents, parties and food (you have to bake a lot in November and December!).  Then in November I really get down to business.
First up is my daughter's fourth birthday party.  This year she requested pink ladybugs as her theme and I'm excited to oblige!  My daughter is a girly-girl all the way and is very into doing her hair – especially with headbands – so I'm making the girls each a ladybug headband.  I just made up the rules as I went along and I thought they turned out really cute.  (And we know I don't do complicated, so they were simple too!)
Here's how to make one for your own little ladybug lover…
You'll need: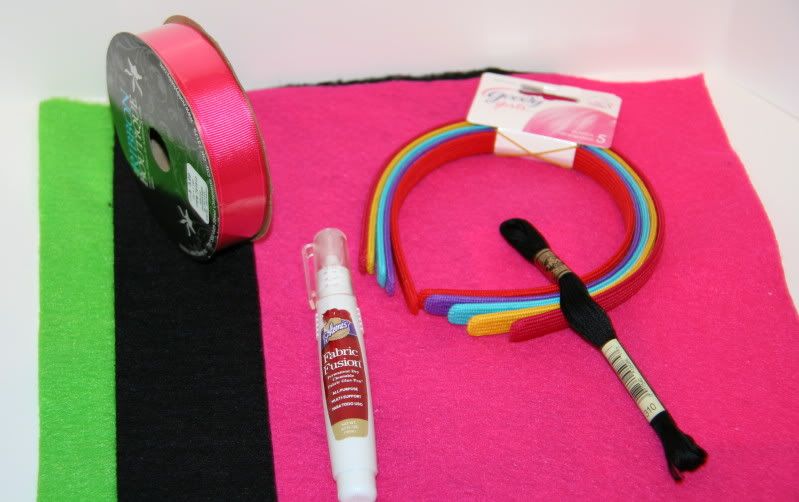 plain headbands (easy to get at a superstore or the dollar store – I was happy to find some fabric covered ones so I only had to cover the ones that were the wrong color)
pink ribbon (there are still some American Crafts Ribbon bundles up on the past steals page - and they are a GREAT deal for some excellent quality ribbon that would work perfectly on this project)
pink, black and bright green felt (I bought squares in the craft section)
black embroidery thread (optional)
rhinestones (optional)
fabric glue
hot glue gun
paper ladybug and leaf templates (I just drew these freehand – a leaf, a body and wings – which are just a circle cut in half)
First thing to do is make the ladybug and leaves.  Using the templates as a guide, cut out leaves, wings, and ladybug bodies.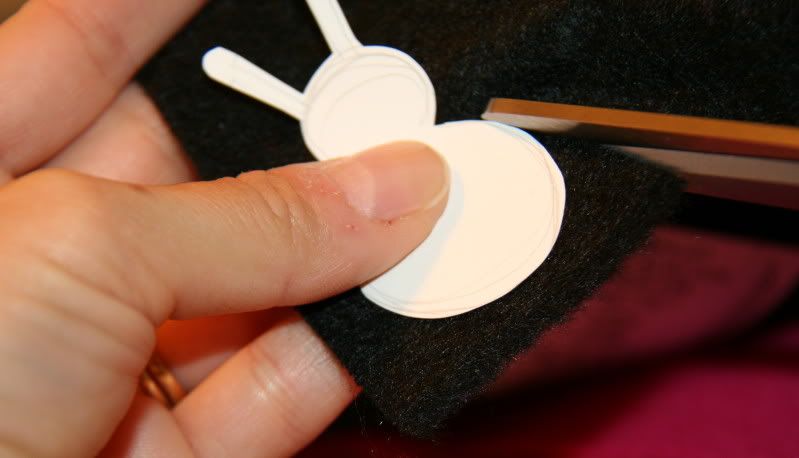 The ladybugs can now be assembled.  Using fabric glue, put the wings on the bodies. 
At this point, I also added some bling in the form of rhinestones – which I also attached with fabric glue. Some other cute ideas would be to add buttons, beads or sequins.
Next up is to cover the headbands with ribbon.  To ensure smooth and fully covered ends, cut a short 3″-4″ piece of ribbon.  Hot glue that piece on the end as the picture shows:
Repeat on the other end.
Now glue the end of the spool of ribbon (I'm sorry, I didn't measure how much I used, I just used the spool!) on the end as shown: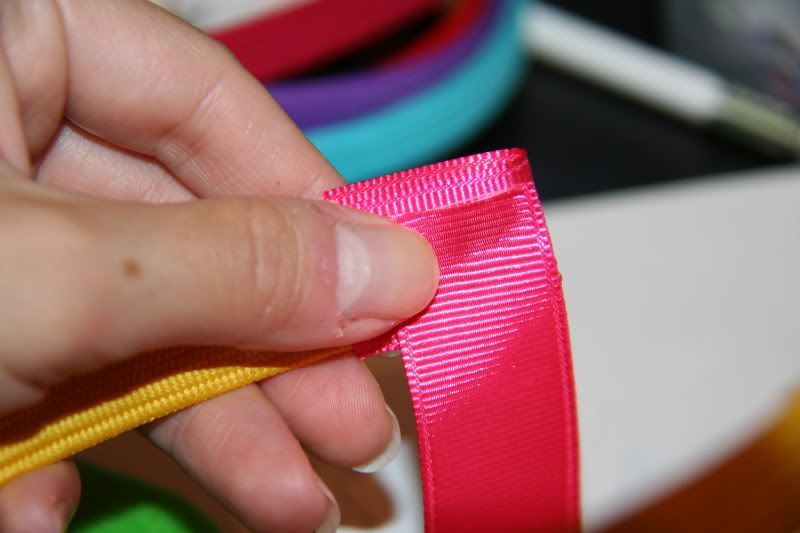 Wrap the ribbon around tightly until you get to the other end.
Hot glue the end down, making sure you have pulled tightly.
Attach the ladybug and leaves (in a whatever you think is a pretty way!) with hot glue to the ribbon covered headband, and give it to your model – she will be ecstatic.  Mine said "Oh, is that mine? It is SO pretty!"
The fun thing about these headbands is that they allow for fun variations – for example, in this second headband, I used black embroidery thread to give the leaves more definition.
They'd be perfect for any party theme – princesses, butterflies, or even dinosaurs! Or skip the party and make them for stocking stuffers
Hope you all have a great Sunday and "steal" some time get get creative!